2021 Legal Interpreting Training

VIRTUAL LEGAL HEARING

Co-Sponsored by the Center for Excellence in Advocacy and Center for Excellence in Elder Law
Stetson University College of Law


COVID-19 Update
At this time, we are shifting to a virtual approach. We will update immediately if there are changes.

Training Schedule
Saturday, March 6, 2021 | 10:00am EST - 6:30pm EST (Lecture/Training)
Sunday, March 7, 2021 | 10:00am EST - 6:30pm EST (Legal Hearing)

Participants are required to attend two days to get 1.5 PS CEUs.
No single day rates are being offered.


CEUs sponsored by Hallenross & Associates, LLC


There are two simultaneous tracks:
1) Advanced - Interpreters with courtroom experience
2) Novice - Interpreters wanting courtroom experience
Each track is limited to 24 participants.

Registration Now Open!

Two separate registration flyers


Interpreter Registration - Purchase Ticket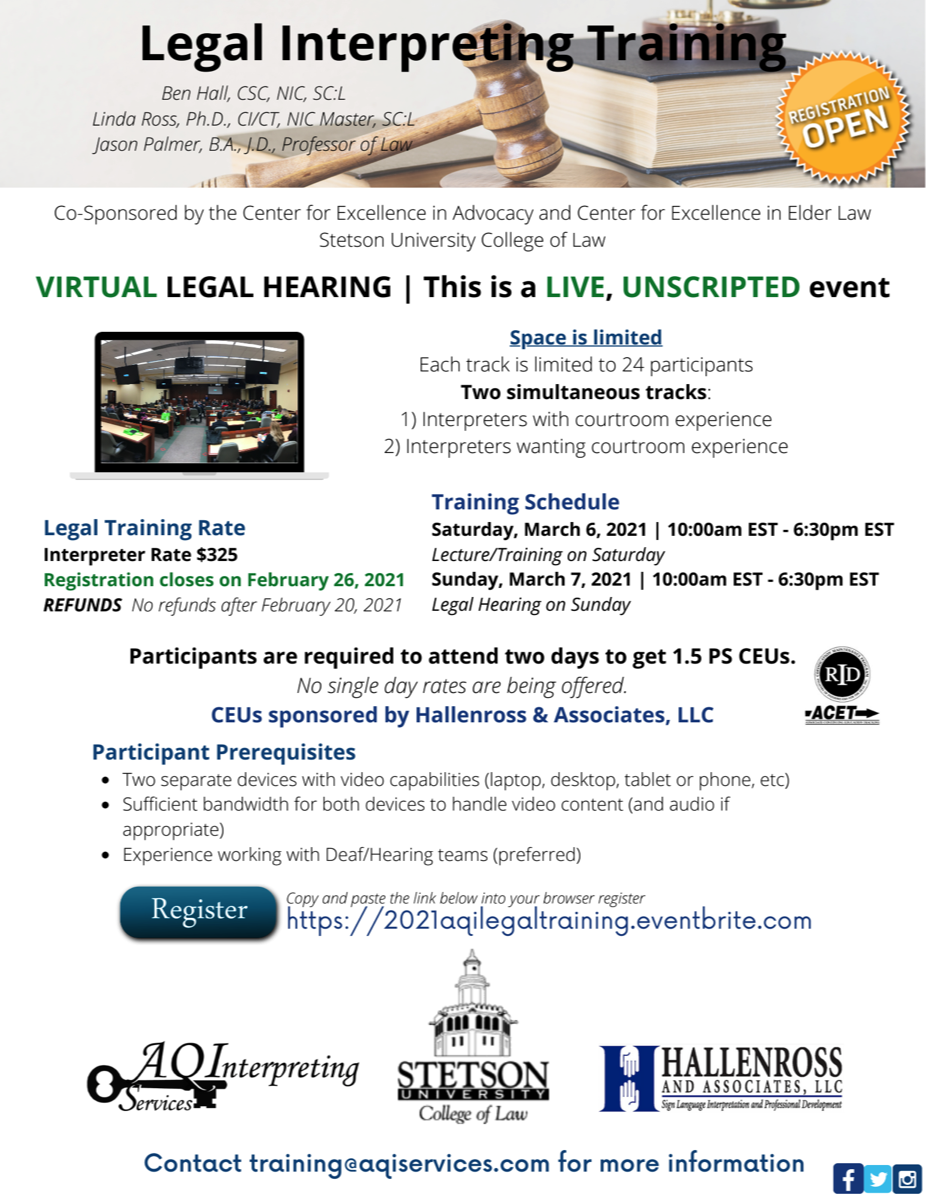 Contact Training@aqiservices.com for more information


IMPORTANT!

The differences between the two tracks are subtle but important. Participants should choose a track that is most appropriate to their experience.

The Novice track for those wanting legal experience focuses on common vocabulary, on a criminal case (which is more typical of the work interpreters do) and preparing for spoken witness testimony.

The Advanced track for those with legal experience, focuses on a complex civil case, note-taking and consecutive interpreting of Deaf witness testimony.

Both tracks are challenging, one novice track is a criminal case and the Advanced track is a civil case with live witness testimony. The decision to make is whether you are ready to handle consecutive interpreting of a Deaf witness or to interpret for hearing witness testify.


Regardless of which track you choose, the training and live courtroom experience is tremendously valuable.